Whenever you are working, how many windows are open on your desktop? How many times do you need to click on Ctrl + Tab keys? How many software and applications have you tried and purchased, only to find out that it is not really working for you and your team? Most of all, what percentage of your expected return of investment did you get after believing that the application or software can help you achieve your sales goals? If those are your concerns, maybe it is time for you to try a brand new platform that could help in connecting everyone efficiently.
 Jobmofy.com is a brand new website for businessmen looking for people that could best fit in their company, and for job seekers who are hoping to be connected with the most awesome company that they could ever work with. This online platform is a combination of all the existing websites, so, when users experience it, they would be seeing all the tools that they need in one tab.
Jobmofy can be used in two ways: as a company or as a talent. Once a user logs in, they will be redirected to their respective dashboards. They will see the tabs which show all the tools that they need for work.
Messaging Tab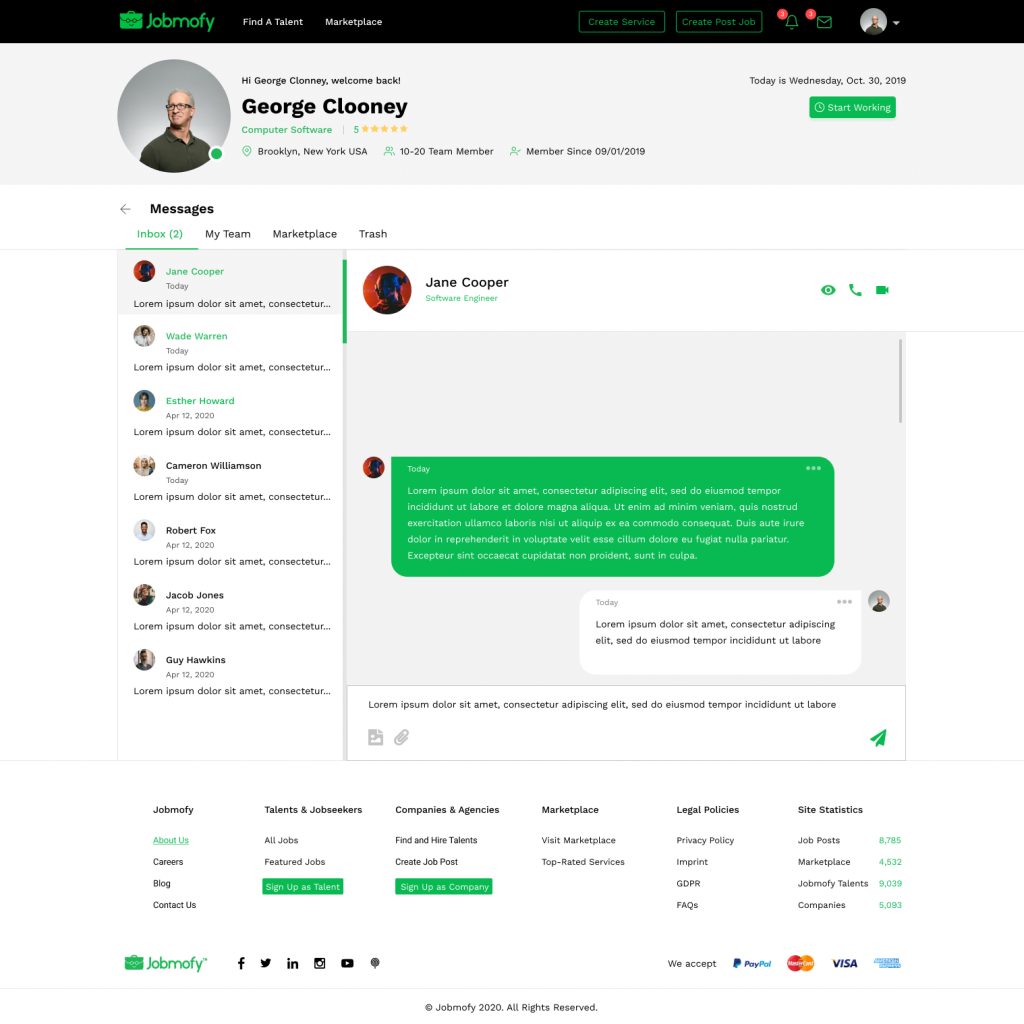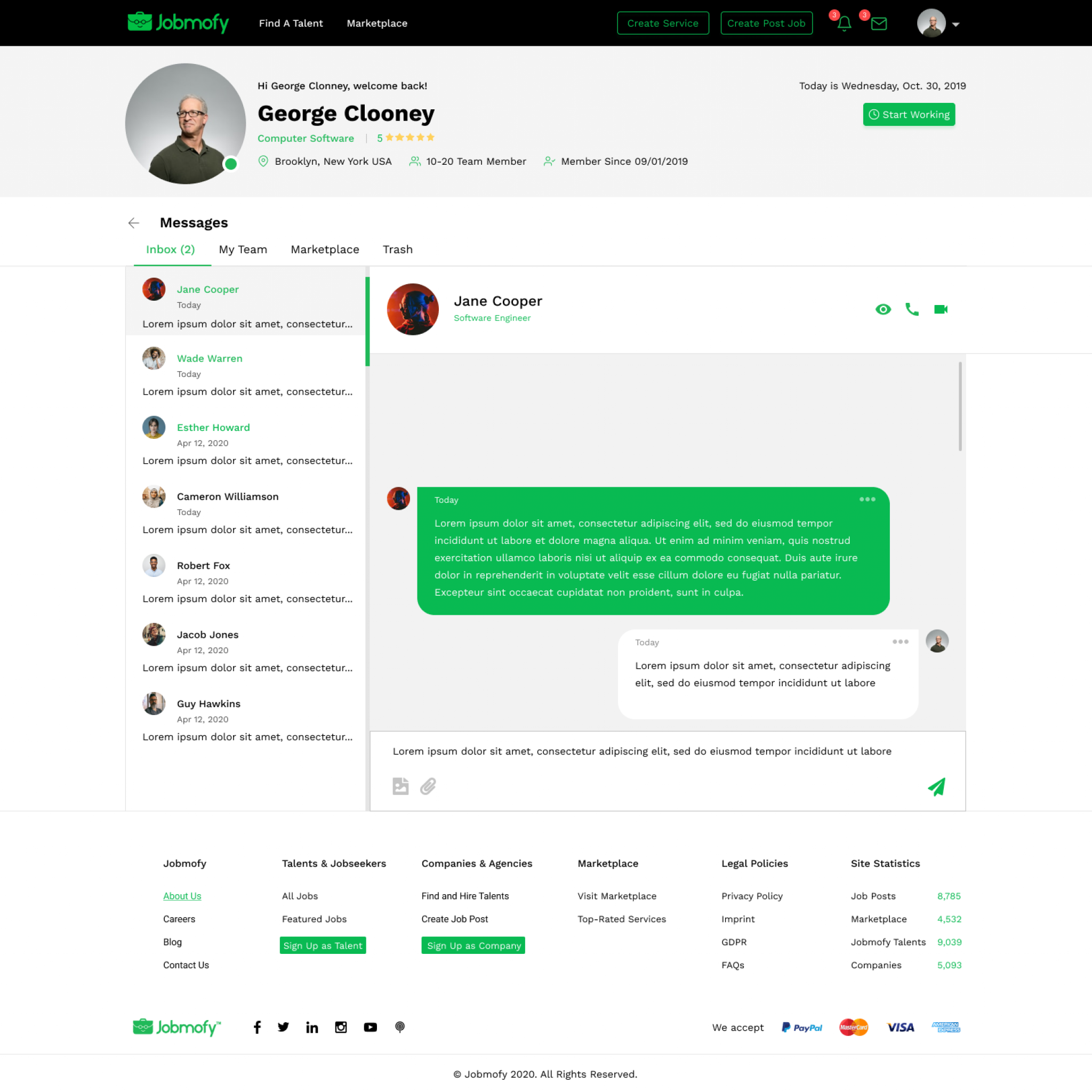 Just like any other messenger apps, Jobmofy messaging allows users to send messages in real-time, make audio calls and video calls, and attach different file types. Initially, it connects a talent scout to job seekers or vice-versa. Once the two different parties agree to work with each other, they can directly talk to each other through the "My Team" feature of Jobmofy. Other than that, there is also a messaging system dedicated just for the marketplace.
"My Team"
This is where your omnipotence as a team leader is realized. With "My Team," the manager can greatly enjoy seamlessly handling different projects and tasks because there is no need to open too many windows just to work efficiently. Here are the awesome features of "My Team":
Assign tasks to team members

Monitor milestones of each member

Time Tracking Feature

Facilitate payment and Issue Invoices

Messaging

Talent Settings

Project Board
The Project Board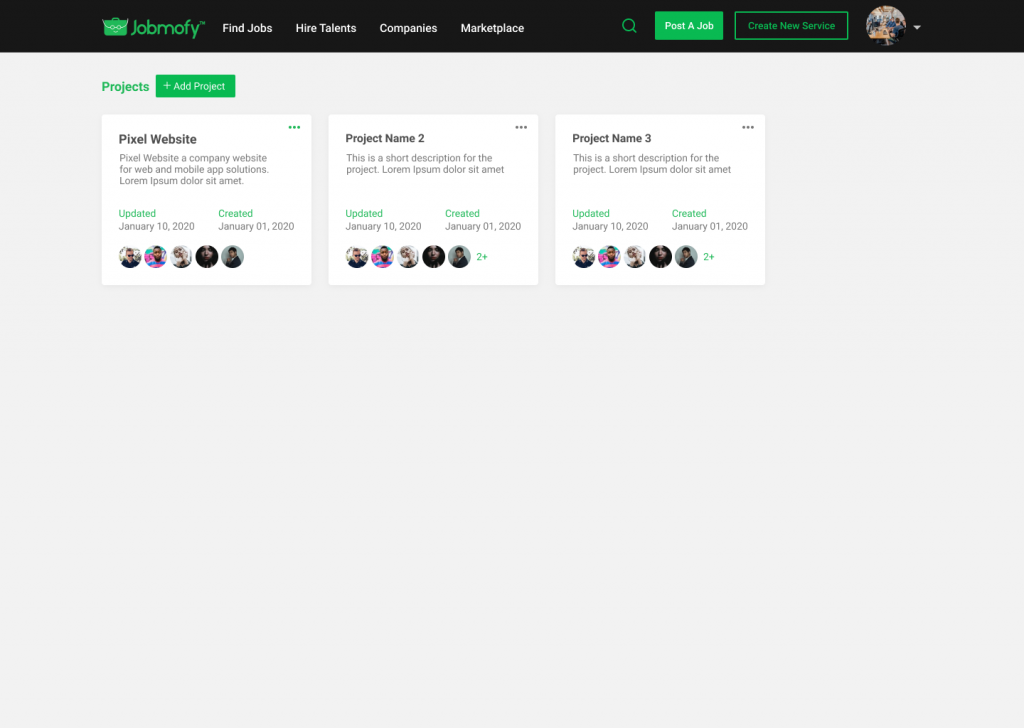 To look closely on each project or task, the project board is the best place to go. When you click it, you will be given a board view of all the projects that you are working on. To add a new project, you have to click the green button which says, "New Project"
When you click on a project, you will be first shown all the recent updates. You will quickly see all the milestones achieved. Moreover, you can also add all the members that you want to include to finish a project. Once done in forming a team, you can immediately proceed to the task list tab to add all the things needed to be done and immediately tag and notify the person responsible for it. You will also know all the active and completed projects. Usually, when working on a project, many remote workers use cloud-based storage to easily share files with each other, but with Jobmofy Project Board, file sharing is also included. Lastly, notes are easily shared as well on the project board.
The Marketplace
The Marketplace is both for employers and employees. When they want to earn extra, especially in their free time, they can freely post projects that they offer. 
When you go to the marketplace, it is mainly categorized into 4. You can immediately see the recently added services, followed by top services. Jobmofy also enlists the recommended project. Because many users will be posting well-curated projects, there is a big tendency that you might lose track. To stop that from happening, Jobmofy also created a category that shows the projects that you recently visited. On-the-other-hand, you can easily type in keywords of the services that you want to avail.
Those are the most awaited remote working tools that Jobmofy is launching to realize the vision, mission, and goal of Benjamin Schneider to provide a more comfortable life for all aspiring dreamers out there. Jobmofy is truly the ultimate all-in-one-platform. If you want to want to know more about it, you can contact service@jobmofy-magazine.com.