Online job opportunities are a bit different from what the real world has to offer. First of all, a college degree isn't that necessary. Instead, employers are keen on looking for highly skilled workers. This means that someone who can create amazing graphics will likely get hired over someone who holds nothing more than a bachelor's degree. So, if you want to make it big in the world of online work, you've got to focus on developing your skills.
Here are some skills you should consider developing.
Web Development
This is one of the most sought-after skills. Web or app development is one of the more lucrative online job opportunities. If you hold an IT degree, you'll fit right into this niche perfectly. Developers are responsible for building the components that serve as the lifeblood of the internet. They create websites and software, write codes, and run programs.
Skill/s Needed: JavaScript, HTML/CSS, software testing and debugging, SEO
Project Management
If you have prior experience in handling teams, project management is the job for you. Most software development teams need a project manager to oversee planning. As a PM, you are responsible for delegating tasks to team members, scheduling, and making sure that deadlines are met.
Although PMs don't need to be an expert at any programming language, being familiar with how each language works can make the job a bit easier.
Skill/s Needed: technical management, planning, scheduling
Graphic Design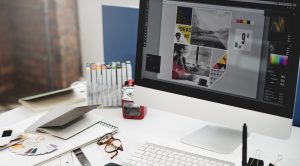 You don't have to be a highly talented painter or illustrator to get into the field of graphic design. In fact, you can find success in this field even if all you can draw is a perfect circle. As long as you have mastered the basic imaging software available. A little bit of ingenuity wouldn't hurt, too.
Skill/s Needed: Photoshop, InDesign, Illustrator, web design, photography, marketing, branding
Writing
Another sought-after online skill is writing. Most websites derive their content from writing. An online writer is responsible for writing articles that will drive traffic to the website, as well as getting the website to rank on the top page of a search engine's results page. You need a strong command of grammar and an advanced understanding of SEO to become a successful online writer.
Skill/s Needed: writing, grammar, SEO
Social Media Management
Many companies are expanding their online reach through the use of social media. Social media management is a relatively new job. Therefore, anyone familiar with how social media works may be given this opportunity. SMMs are responsible for creating a company's online presence. They do this by creating appealing content and posting them to gain a following. Social media is all about creating content. So, an effective SMM should be creative enough to get the job done.
Skill/s Needed: writing, photography, video editing, graphic design, marketing